This is a (slowly growing) list of Frequently Asked Questions we've gotten over the years. If you don't see an answer, you're always welcome to email about it!
Quick jump to questions about:
The Artists | Art & Supplies | General Questions

QUESTIONS ABOUT THE ARTISTS
Wait–"Blotch" is Two People?!
Yep! "Blotch" is the singular name for our collaboration. Teagan writes, lays out, and sketches the comics/illustrations, and Tess cleans up the sketches, inks and paints everything.
Who is "Blotch" and who is "Screwbald"?
Both are names for the same collaborative team, made up between Teagan Gavet and Tess Garman! Teagan writes, lays out, and sketches the comics/illustrations, and Tess cleans up the sketches, inks and paints everything. Here's more information on the individual artists.
The character "Blotch" is personified as a leopard, and we tend to post as a "singular I" to keep things less confusing… or maybe more-so, since you'll never know who you're talking to!
How long have you been drawing/painting?
Tess has been painting since she was 14 years old, so about 14 years now, and drawing since she could hold a crayon. She's painted in gouache, oil, ketchup, and coffee–but prefers watercolour and acrylics.
Teagan started drawing in kindergarten, but didn't start to take it seriously until college, so about 7 years now.
Did you go to school for art? Is it your livelihood?
Yes, and yes. Tess Garman has a degree in Natural History and Scientific Illustration, and Teagan Gavet went to school to study animation. We've also both been interested in art since we were kids.
We're both full-time freelance artists, and make a living on art and comics.
Do you two live together? How do your collaborations work?
We do live together in Colorado. For the comics, our collaboration process goes roughly like this:
Teagan writes a script (which is a process unto itself,) then thumbnails page layouts. Tess tells her if (when) something doesn't make sense, and Teagan fixes it. When everything looks good, Teagan sketches out the full-sized pages. Then Teagan has a beer, and Tess cleans up the sketches, adding details and background elements. When the sketched page is finished and everyone's read to commit to the page, Tess stretches it on a board (to keep it from buckling.) She inks it, drinks a lot of coffee, and finally, paints the page. Teagan scans all of the finished pages, color corrects them, and adds the dialogue/text elements, while Ket drinks wine.
Where Can I find you online?
Online Galleries:
DeviantArt | FurAffinity | Nabyn | VCL
Social Sites:
LiveJournal | BlogSpot | g+ | FaceBook | Twitter
Our Sites:
www.screwbald.com | www.blotchinc.com
www.nordguard.com | www.dogsdaysofsummer.com
During your time on the Internet, you will surely find funny cat photos. Far less likely, you might find folks who claim to be me. However, if "I" mysteriously use a completely different email address other than screwbald[at]gmail, and for whatever reason do not have access to the sites above, or use some unmentioned social network, or online gallery, or paysite all together different than the places I've listed… well, that's really not me.
When all is said and done, the best place to meet me (and be reasonably sure you're actually talking to who you think you're talking to) is at any of the conventions I do every year.
Okay then, What Conventions Do You Attend?
We change it up every now and then, but as dealers, in 2012-2013, we plan on:
FurtherConfusion in San Jose, CA
Furry Fiesta in Addison, TX
Emerald City ComicCon in Seattle, WA
Furry Weekend Atlanta, GA
AnthroCon in Pittsburgh, PA
ComicCon International in San Diego, CA
(-here you can find me hanging around the Sofawolf Press booth!)
Rocky Mountain FurCon in Denver, CO
EuroFurence in Germany (hopefully 2013!)
RainFurrest in Seattle, WA
Midwest Furfest in Chicago, IL
MidFur in Melbourne, Australia
ART & SUPPLIES
What materials do you use?
Teagan sketches with plain mechanical pencils, while Tess prefers the heavier Graphgear pencils. For paint, it's Winsor&Newton Watercolours and Golden brand liquid acrylics, on Arches 140 lbs hot press watercolour paper. For inking, Tess uses a small paintbrush and Speedball brand ink.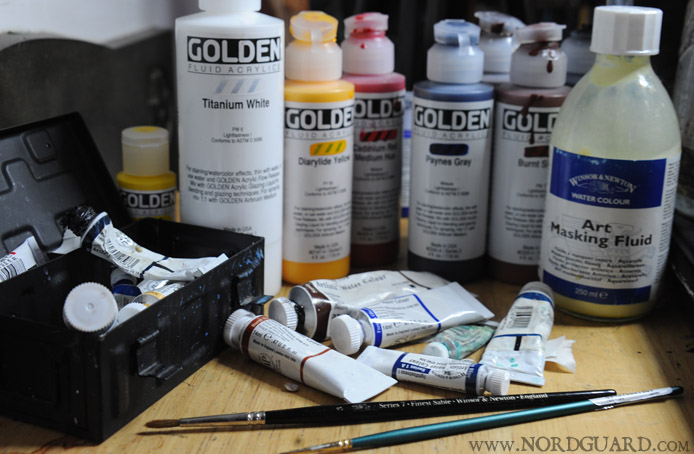 When you paint, why is the paper flat?
Tess stretches her watercolor paper, to keep it from buckling/wrinkling when she paints on it.
This is done by initially submerging the paper entirely in water for 3-5 min, then stapling and taping the sheet to a board. Once you let it dry, it is "stretched" and will not buckle.
GENERAL QUESTIONS:
Why anthropomorphic animals?
We like to draw animals. I also think animal characters can add new advantages and challenges to story telling in general.
What's LiveStream?
Sometimes, Tess likes to paint on LiveStream, which is a live online broadcast site. We have several saved, sped-up and previously recorded sessions up on our LiveStream channel.
If you want to know when we're streaming to see it live and join in the chat, follow us @screwbald on Twitter, or on FaceBook to be notified when we start! There's no set schedule for streams. However, when the work allows (as in, it's not a comic spoiler, or something meant for a publication,) we try to stream.
You can find more information about our LiveStream channel (including a separate LiveStream FAQ) right here!
So, I hear you like to make comics?
Yes! Telling a story through artwork is what inspires and moves us both. Graphic novels and comics are the perfect outlet for that. Whether it's a single illustration, or a graphic novel, we try to impart meaning and story into it.
The very first comic we ever did was back in 2007, called Dog's Days of Summer, and it ran as a webcomic online. Readers voted every week for what happened next. It was kind of a trial by fire to find out if we enjoyed, and could manage, to make comics. We survived the summer, and decided to try and tie the haphazard storyline together with a second half, which was later published.
Since we discovered that making comics is addictive, we embarked on our first real attempt at making a graphic novel in 2009. The result is the first of three books, called Across Thin Ice, which is a fully painted, 75-page graphic novel which made it's debut in 2011 from Sofawolf Press. (It's available now, either online or from your local comic book store! *wink wink, nudge nudge*) We're hard at work on the second Nordguard book, which picks up right where Across Thin Ice ends. The second one should be out in summer of 2013 if everything goes as planned. You can get more information on the Nordguard books over yonder at: www.nordguard.com!
I Want to Buy Stuff! Can I?
Sure! You can pick up our graphic novels from a variety of places! Here's a page dedicated to that information!
But I wanted a print!
I sell prints at the various conventions I attend every year (you can find the list of conventions up the page a little ways.) However, I also have a print sale online once a year (usually). This happens at random, usually either in the spring or fall, but I do offer a lot of deals on various prints during this time. Follow me @screwbald on Twitter to keep up to date on that!
You are welcome to email [screwbald [at] gmail [dot] com] if you simply cannot wait for something, and I might be able to help you out!